New Monofocal Lens Implants for cataract surgery
I am planning to have cataract surgery and am not suitable for multifocal implants. What are the latest and advanced monofocal lens implants available that I can consider?
A) In recent years, premium intraocular lenses (IOLs) —implants to replace the eye's natural lens when it Is removed during cataract surgery have been used for the correction of presbyopia, myopia and astigmatism. IOLs come in monofocals, monofocal plus and multifocals. The final choice of lens implant is determined by your lifestyle and visual needs—such as screen time, reading time and sporting activities — after discussion with your surgeon. Surgeons can also help their patients achieve optimal spectacle-free vision through matching of available IOLs technologies with patients' visual needs by modifying their eyes' post-operative power.
Can I achieve spectacle freedom with standard monofocal IOLs that corrects vision for one distance (either near or far)?
Yes, through the use of monovision strategy. A monovision strategy provides spectacle freedom by fully correcting the dominant eye to zero dioptres (D) for distance, while the non-dominant eve is made -1.75D for reading. With monovision, patients can have good far and near vision without the need for spectacles. However, their intermediate vision may not be as good compared to patients who I have opted for multifocal l0Ls.
There are recent innovations, such as the new monofocal plus IOLs, which are monofocal IOLSs that carry extra reading power to enhance the intermediate vision zone (66cm) of monovision patient& Monofocal plus IOLs have been shown to give better inter-mediate vision than standard monofocal IOLs — such as for desktop computer work, cooking and using the stairs—yet is without the glare and haloes associated with multifocal IOLs. When applying monovision strategy with monofocal plus IOLs, distance vision is also better than the standard monofocal IOLs with less loss of 3D and depth perception. Things or events in the distance such as stage performances are generally clearer with improved depth perception.
How can this procedure be done?
The bladeless femtosecond (FS) laser cataract surgery can be considered. FS laser replaces the manual process of cutting by hand using blades and sharp surgical instruments. The biggest advantage is that the computer-guided FS laser allows the IOLs to be perfectly positioned at the centre of the visual axis. 3D scans and laser precision create perfectly sized and perfectly circular capsule openings for IOLs. Capsulotomies created by FS laser have reproducible, uniformly circular and precise diameter, as compared with manually created ones, which improves refractive outcomes and maximises patients' chances of achieving total spectacle freedom.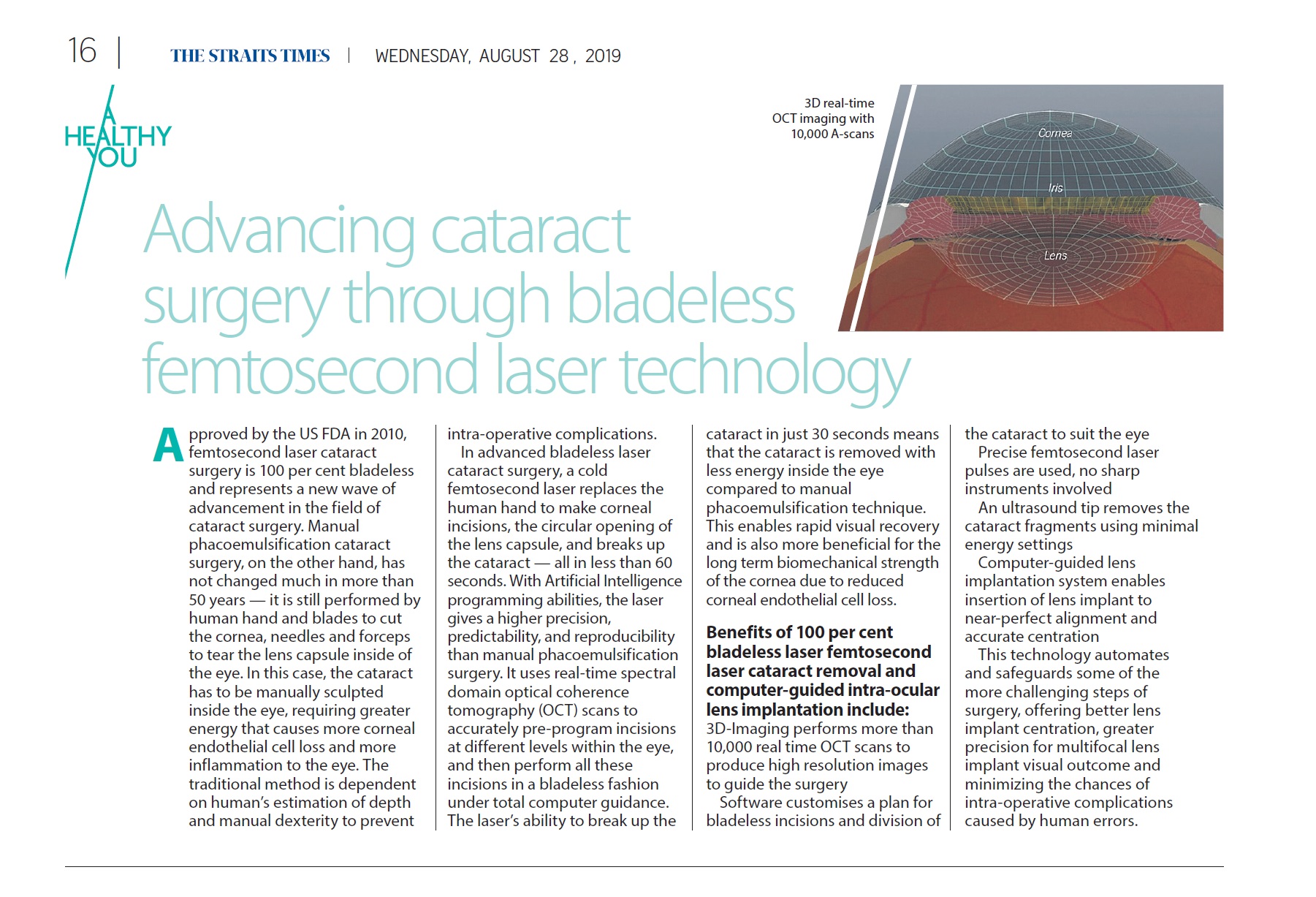 Advancing cataract surgery through bladeless femtosecond laser technology
A) Approved by the US FDA in 2010, femtosecond laser cataract surgery is 100 per cent bladeless and represents a new wave of advancement in the field of cataract surgery. Manual phacoemulsification cataract surgery, on the other hand, has not changed much in more than 50 years — it is still performed by human hand and blades to cut the cornea, needles and forceps to tear the lens capsule inside of the eye. In this case, the cataract has to be manually sculpted inside the eye, requiring greater energy that causes more corneal endothelial cell loss and more inflammation to the eye. The traditional method is dependent on human's estimation of depth and manual dexterity to prevent infra-operative complications.
In advanced bladeless laser cataract surgery, a cold femtosecond laser replaces the human hand to make corneal incisions, the circular opening of the lens capsule, and breaks up the cataract— all in less than 60 seconds. With Artificial Intelligence programming abilities, the laser gives a higher precision, predictability, and reproducibility than manual phacoemulsification surgery. It uses real-time spectral domain optical coherence tomography (OCT) scans to accurately pre-program incisions at different levels within the eye, and then perform all these incisions in a bladeless fashion under total computer guidance. The laser's ability to break up the cataract in just 30 seconds means that the cataract is removed with less energy inside the eye compared to manual phacoemulsification technique. This enables rapid visual recovery and is also more beneficial for the long term biomechanical strength of the cornea due to reduced corneal endothelial cell loss.
Benefits of 100 per cent bladeless laser femtosecond laser cataract removal and computer-guided intra-ocular lens implantation include:
3D-Imaging performs more than 10,000 real time OCT scans to produce high resolution images to guide the surgery.
Software customises a plan for bladeless incisions and division of the cataract to suit the eye.
Precise femtosecond laser pulses are used, no sharp instruments involved. An ultrasound tip removes the cataract fragments using minimal energy settings. Computer-guided lens implantation system enables insertion of lens implant to near-perfect alignment and accurate centration.
This technology automates and safeguards some of the more challenging steps of surgery, offering better lens implant centration, greater precision for multifocal lens implant visual outcome and minimizing the chances of intra-operative complications caused by human errors.
---
THE STRAITS TIMES, PUBLISHED NOV 11, 2019
---
BLADELESS LASER CATARACT SURGERY

What is Bladeless Laser Cataract Surgery
Q) My 62-year-old uncle has cataracts and has been advised to go jor bladeless laser cataract surgery. Can you tell me more about this procedure?
A) As a person ages, a cataract can occur when the natural lens inside the eye becomes cloudy, causing symptoms such as blurred vision, glare or halos around bright lights, loss of colour or depth perception, and difficulty with vision in dim light. Cataracts cannot be treated by medication or wearing spectacles, an surgery is the best option.
What is cataract surgery?
Modern cataract surgery is a safe and effective 20-minute outpatient procedure that involves making a 2mm incision on the cornea, cutting the cataract into small pieces, re-moving the pieces and implanting a lens implant. The surgery is also an opportunity for patients to correct or reduce pre-existing myopia (short-sightedness), astigmatism and presbyopia ('lao hua").
Traditional cataract surgery
For the last 50 years, surgeons have been performing cataract surgery with a manual technique — using blades to make conical incisions, and phacoemulsification (ultrasound) to cut up cataracts — which has limited precision and possible human error.
Modern cataract surgery
In bladeless laser cataract surgery, a femtosecond laser machine is used to complete many of the steps previously performed manually by the surgeon, thus reducing the chance of human errors. This allows cataract surgery to become more precise and, ultimately, improve on safety and visual out-comes. The femtosecond laser system uses a technology that is based on:
• 3D Optical Coherence Tomography (OCT) imaging: Like a fingerprint, every eye has a unique size and shape. Before the treatment, the femtosecond laser system scans the patient's eye and makes precise 3D maps of eye structures using real-time, high-definition OCT imaging (below) to plan a customised treatment map of each eye.
• Laser precision: Without manual cuts, the femtosecond laser (gas bubbles) creates a precise opening on the lens capsule for the removal of the cataract.
• Gentler cataract surgery: The femtosecond laser then softens and divides the cataract into multiple pieces, blade-free. The surgeon can remove the cataract more gently, which also enables faster post-op visual recovery for patients.
Computer—guided lens implantation
After the removal of the cataract, the surgeon uses a computer-guided lens implantation system (left) that enables him to see alignment images during the actual insertion of the lens implant. This helps the implant attain near-perfect overlap and accurate centration.
Overall advantages
The advantages of using femtosecond laser and computer-guided lens implantation systems include:
• Improved safety and precision,
• Can be performed using topical anaesthetic eye-drops,
• No sharp blades involved,
• No stitches required,
• More precise alignment of artificial lens implant, and
• Quicker return of vision after surgery.
---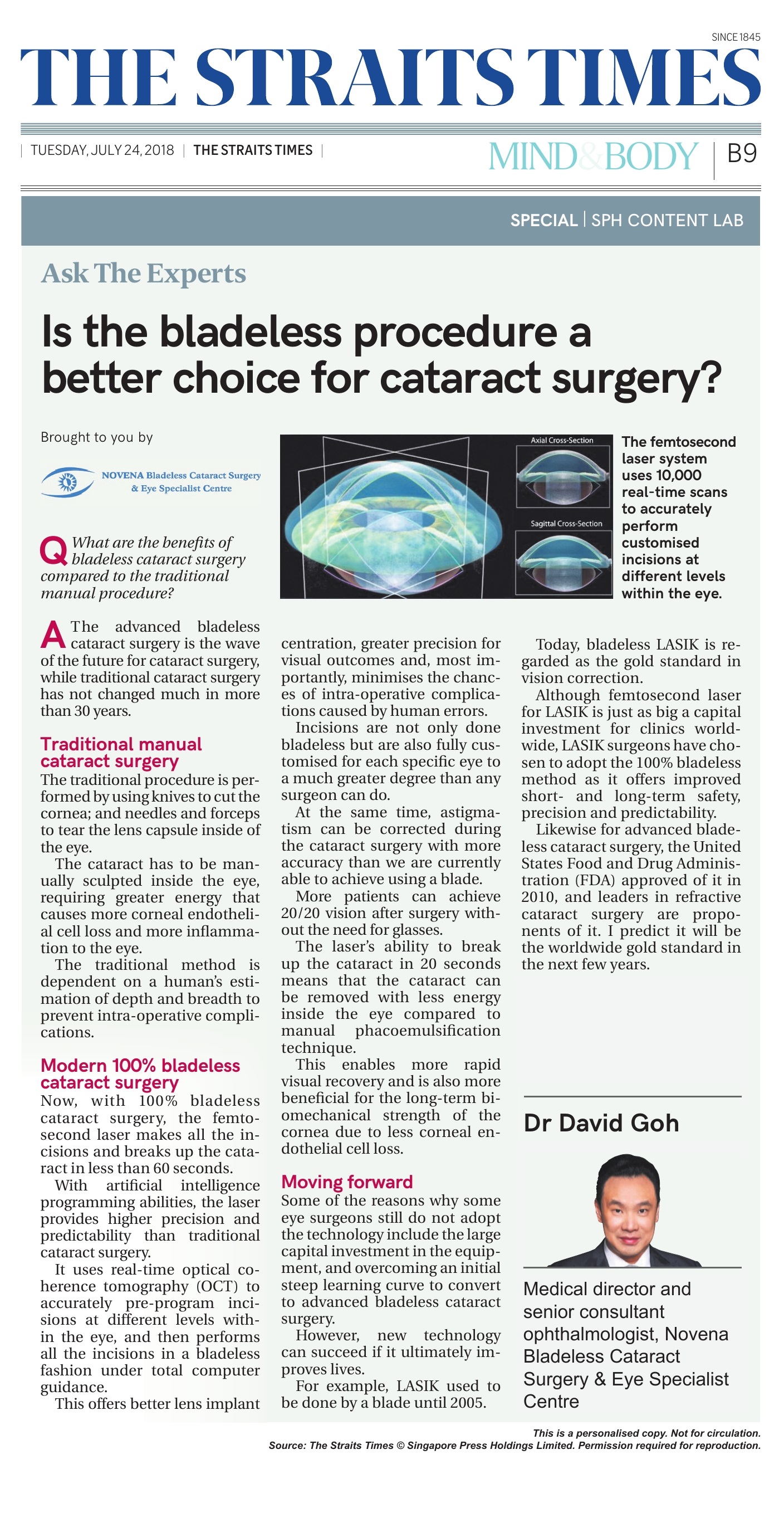 Is the bladeless procedure a better choice for cataract surgery the straits times
Q) What are the benefits of bladeless cataract surgery compared to the traditional manual procedure?
A) The advanced bladeless cataract surgery is the wave of the future for cataract surgery, while traditional cataract surgery has not changed much in more than 30 years.
Traditional manual cataract surgery
The traditional procedure is per-formed by using knives to cut the cornea; and needles and forceps to tear the lens capsule inside of the eye. The cataract has to be manually sculpted inside the eye, requiring greater energy that causes more corneal endothelial cell lass and more inflammation to the eye. The traditional method is dependent on a human's estimation of depth and breadth to prevent infra-operative complications.
Modern 100% bladeless cataract surgery
Now, with 100% bladeless cataract surgery, the femto-second laser makes all the incisions and breaks up the cataract in less than 60 seconds. With artificial intelligence programming abilities, the laser provides higher precision and predictability than traditional cataract surgery. It uses real-time optical coherence tomography (OCT) to accurately pre-program incisions at different levels with-in the eye, and then performs all the incisions in a bladeless fashion under total computer guidance. This offers better lens implant centration, greater precision for visual outcomes and, most importantly, minimises the chances of in-operative complications caused by human errors. Incisions are not only done bladeless but are also fully customised for each specific eye to a much greater degree than any surgeon can do. At the same time, astigmatism can be corrected dining the cataract surgery with more accuracy than we are currently able to achieve using a blade. More patients can achieve 20/20 vision after surgery without the need for glasses. The laser's ability to break up the cataract in 20 seconds means that the cataract can be removed with less energy inside the eye compared to manual phacoemulsification technique. This enables more rapid visual recovery and is also more beneficial for the long-term biomechanical strength of the cornea due to less corneal endothelial cell loss.
Moving forward
Some of the reasons why some eye surgeons still do not adopt the technology include the large capital investment in the equipment and overcoming an initial steep learning curve to convert to advanced bladeless cataract surgery. However, new technology can succeed if it ultimately improves lives. For example, LASIK used to be done by a blade until 2005.
Today, bladeless LAS1K is regarded as the gold standard in vision correction. Although femtosecond laser for LAS1K is just as big a capital investment for clinics world-wide, LASIK surgeons have chosen to adopt the 100% bladeless method as it offers improved short- and long-term safety, precision and predictability.
Likewise for advanced blade-less cataract surgery. the United States Food and Drug Administration (FDA) approved of it in 2010, and leaders in refractive cataract surgery are proponents of it. I predict it will be the worldwide gold standard in the next few years.
---

---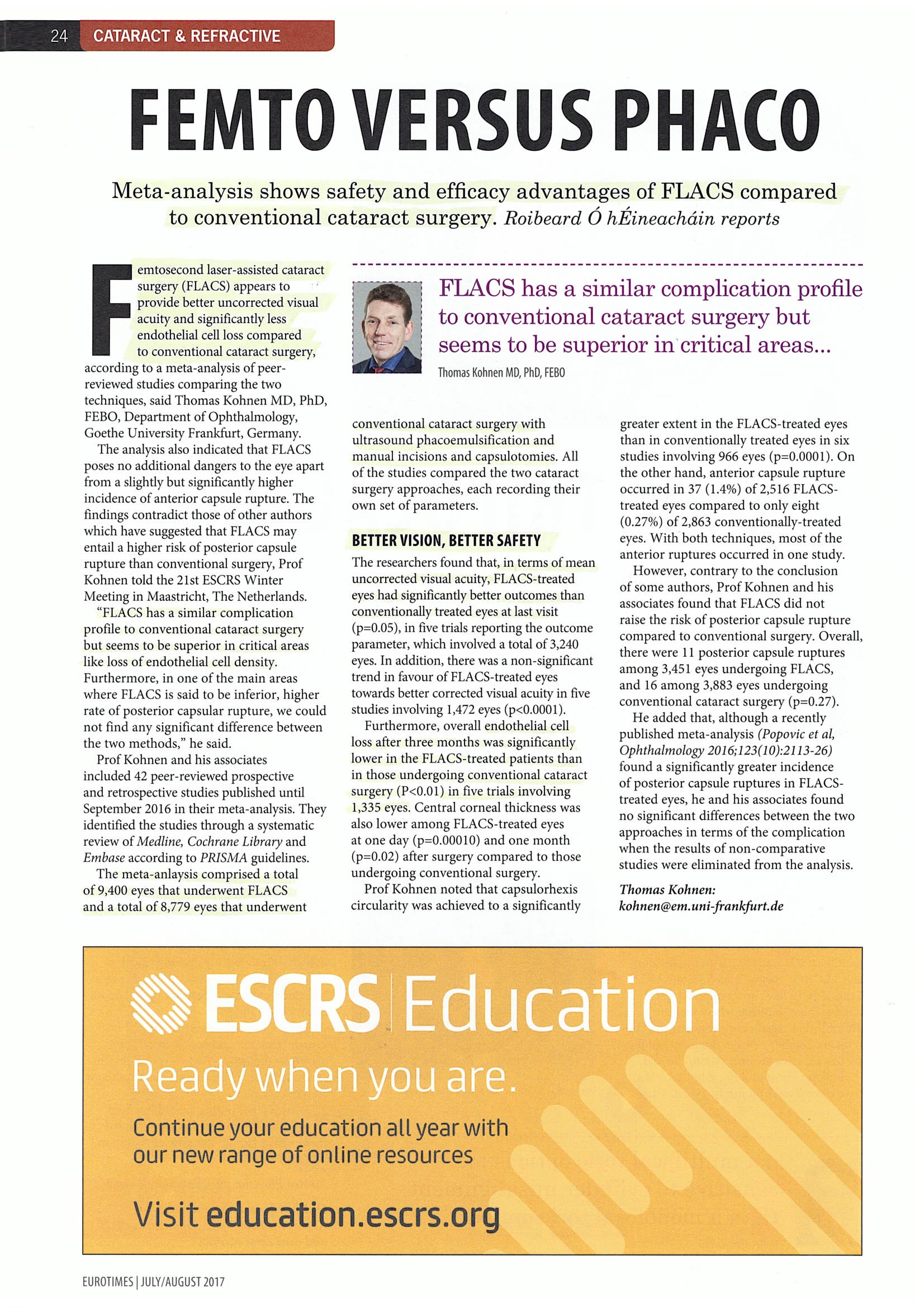 FEMTO VERSUS PHACO
Femtosecond laser assisted cataract surgery (FLACS) appears to provide better uncorrected visual acuity and significantly less endothelial cell loss compared to conventional cataract surgery, according to a meta-analysis of peer-reviewed studies comparing the two techniques, said Thomas Kohnen MD, PhD, FEBO, Department of Ophthalmology, Goethe University Frankfurt, Germany.
The analysis also indicated that FLACS poses no additional dangers to the eye apart from a slightly but significantly higher incidence of anterior upside rupture. The findings contradict those of other authors which have suggested that FLAGS may entail a higher risk of posterior capsule rupture than conventional surgery, Prof Kohnen told the 21st ESCRS Winter Meeting in Maastricht, The Netherlands.
`FLACS has a similar complication profile to conventional cataract surgery but seems to be superior in critical areas like loss of endothelial cell density. Furthermore, in one of the main areas where FLACS is said to be inferior, higher rate of posterior capsular rupture, we could not find any significant difference between the two methods," he said.
Prof Kohnen and his associates included 42 peer-reviewed prospective and retrospective studies published until September 20l6 in their meta-analysis. They identified the studies through a systematic review of Medline, Cochrane Library and Embase according to PRISMA guidelines.
The meta analysis comprised a total of 9,400 eyes that underwent FLACS and a total of 8,779 eyes that underwent conventional cataract surgery with ultrasound phacoemulsification and manual incisions and capsulotomies. All of the studies compared the two cataract surgery approaches, each recording their own set of parameters.
BETTER VISION, BETTER SAFETY
The researchers found that, in terms of mean uncorrected visual amity, FLAGS-treated eyes had significantly better outcomes than conventionally treated eyes at last visit (p=0.05), in five trials reporting the outcome parameter, which involved a total of 3,240 eyes. In addition, there was a non significant trend in favour of FLACS treated eyes towards better corrected visual acuity in five studies involving 1,472 ryes (p<0.0001).
Furthermore, overall endothelial cell Toss after three months was significantly lower in the FLAGS-treated patients than in those undergoing conventional cataract surge. (P<0.01) in five trials involving 1,335 eyes. Central corneal darkness was also lower among FLACS-treated eyes at one day (p=0.00010) and one month (p=0.02) after surgery compared to those undergoing conventional surgery.
Prof Kohnen noted the capsulorhexis Circularity was achieved to a significantly greater extent in the FLACS-treated eyes than in conventionally treated eyes in six studies involving 966 eyes (P=0,0001). On the other hand, anterior capsule rupture occurred in 37 (1.06) of 2,516 FLACS-treated eyes compared to only eight (0.27%) of 2,863 conventionally-treated eyes. With both techniques, most of the anterior ruptures occurred in one study.
However, contrary to the conclusion of some authors, Prof Kohnen and his associates found that FLACS did not raise the risk of posterior capsule rupture compared to conventional surgery. Overall, there were 11 posterior capsule ruptures among 3,883 eyes undergoing FLACS, and 16 among 3,883 eyes undergoing conventional cataract surgery (p=0.27). He added that although a recently published metar-analysis (Popovic et al, Ophthalmology 2016;123(10)2113-26) found a significantly greater incidence of posterior capsule ruptures in FLACS-treated eyes, he and his associates found no significant differences between the two approaches in terms of the complication when the results of non-comparative studies were eliminated from the analysis.
LASIK VS SMILE


MYOPIC LASER VISION CORRECTION
Contralateral eye comparison measures SMILE against topography-guided LASIK.
A randomised, contralateral eye-controlled study of myopic correction with topography-guided femtosecond LASIK and small incision lenticule extraction (SMILE) showed the two procedures provided comparable refractive outcomes, despite better centration with LASIK.
LASIK was also associated with better visual performance, but SMILE resulted in less dry eye, inflammation and epithelial remodelling, according to A John Kanellopoulos MD.
Providing his conclusions, Dr Kanellopoulos highlighted the future promise of SMILE rather than its current limitations. "The results underline how effective laser vision correction is today, and the refractive outcomes for both procedures far exceeded the FDA standards," said Dr Kanellopoulos, Director, LaserVision Clinical and Research Eye Institute, Athens, Greece.
"Considering that the SMILE cohort included cases done in my personal learning curve, the effectiveness of that procedure was outstanding, and I expect that potential future improvements in centration, tissue removal customisation and cyclorotation compensation may make SMILE-like procedures even superior to LASIK for correcting low-to-moderate myopia," he added The single-surgeon, rigorously designed study enrolled 25 patients undergoing bilateral eye treatments with -3.0D to -10.0D of myopia (mean -5.5D) and up to -5.013 of astigmatism (mean -1.5D).
Mean distance uncorrected visual acuity (UCVA) was 20/200 preoperatively for both groups, and at six months was 20/20 in SMILE eyes and 20/15 after LASIK. The efficacy analysis comparing postoperative UCVA with preoperative corrected distance visual acuity (CDVA) showed a one-line gain of CDVA vision for 52% of LASIK eyes and 30% of SMILE eyes.
Refractive results for both surgeries showed excellent predictability and good stability. The refractive outcomes were statistically better for the LASIK-treated eyes, however, and particularly for cylinder correction.
"It is inherent to the topography-guided treatment for it to be better, and a comparison between the two procedures is a little unfair considering there is currently no cyclorotation adjustment with SMILE," said Dr Kanellopoulos, who is also Clinical Professor of Ophthalmology, New York University Medical School, New York, USA.
Additionally, topography-modified refraction (TMR: modification of the amount and axis of astigmatism according to the topography values and angle kappa) was used in the LASIK eyes, potentially enhancing the visual performance recorded. Contrast sensitivity was improved postoperatively in both groups, although it was better after LASIK than SMILE.
Stating that he has advocated judging refractive surgery with assessments other than conventional visual performance and keratometry measures, Dr Kanellopoulos said that the study endpoints also included analyses of corneal symmetry indices and ablation centration.
He reported that the index of height decentration (IHD) was lower at one, three and six months in the LASIK eyes compared with SMILE, although the difference between groups tended to dissipate as follow-up lengthened.
`Lower IHD means better regularity of the cornea, and the difference favouring LASIK is probably due to its better accuracy for correcting corneal astigmatism in regard to the corneal vertex (line of sight)," Dr Kanellopoulos said.
"We also looked at the Objective Scatter Index as a marker of quality of vision and found the results were better after LASIK, which probably is because of better corneal symmetry," he added.
Centration was assessed by digital analysis of Scheimpflug sagittal curvature maps to calculate the difference between the achieved (centre of corneal curvature flattening effect on the anterior curvature sagittal map difference between pre- and post-op) and planned centre of the lenticule or ablation (the corneal vertex). The results showed far better centration for LASIK than SMILE (mean decentration of 150pm versus 450pm respectively) and highlighted that centration is still an issue with SMILE, Dr Kanellopoulos noted.
Measurements of epithelial remodelling showed significant changes in the SMILE eyes, more than anticipated. Nevertheless, less remodelling epithelial effect in SMILE eyes and faster recovery as the epithelial changes, appeared to significantly subside by month 3. Central and mid-peripheral epithelial thickness increased significantly after both procedures, but the changes were more significant in the LASIK eyes.
"Still, SMILE does not seem to leave the ocular surface minimally affected. It is speculated that there is less denervation after SMILE since the side cut trans versing the subepithelial nerve plexus of the cornea is just 50 degrees, compared to 310 degrees in LASIK. Our findings argue with this theory and potentially support that corneal epithelial remodelling is more curvature change-related, and not just transient dry eye-related," said Dr Kanellopoulos.
Some minor complaints of dry eye symptoms were more common after LASIK than SMILE and persisted longer. At six months, dry eye symptoms had significantly subsided in both groups and were reported for the SMILE eye by six patients (24%) and for the LASIK eye by 12 patients (48%).
---
WHAT IS MYOPIA?
In layman term, Myopia is also known as "short-sightedness". A person with myopia can see close objects clearly but distant objects will appear blurry. We are able to see objects clearly because the light rays that enter our eyes are well-focused on the retina. Myopia is a condition of an elongated eyeball, causing the light rays that enter our eyes to be incorrectly focussed in front of the retina. Hence, causing vision to be blurry. With increasing myopia, the length of eyeball increases, thus, there is a need for early detection and treatment.
Prevalence of Myopia in Singapore
Myopia is the top visual impairment in Singaporeans. Roughly 28% of Primary 1 and about 65% of Primary 6 students are diagnosed with myopia. This percentage had remained stable for the past decades. However, there is an increased rate of children developing myopia as compared to in the past.
Myopia can be hereditary and can be caused by certain environmental factors. Although the exact cause of myopia is unknown, studies have shown that some environmental factors that contribute to the increase in myopia are near work and the use of electronic devices.
Severe Myopia can lead to blindness
Myopia is not just inconvenient because your child has to wear spectacles or contact lenses. It can also lead to severe complications, for instance, retinal detachment which can lead to loss of vision. The higher the degree of myopia, the higher the risks of developing severe complications.
This can result in:
It is a condition whereby there is reduced vision in the eye that did not develop normal vision during early childhood. Myopia is one of the many causes of amblyopia. The brain chooses to use the image from the stronger eye to see which causes the vision of the weaker eye to be underdeveloped. The vision from the weaker eye can be permanently blurred unless treated in early childhood.
The retina is detached from the eyeball in the elongated myopic eye. It can lead to blindness unless treated early.
Severe myopia can also lead to increased fluid pressure inside the eyeballs. This condition is known as glaucoma. This condition, if left untreated, can lead to permanent loss of vision due to the damaging of nerve fibres.
There is a higher chance of developing cataracts at an earlier age which results in blurred vision.
This is a condition resulting from severe myopia where the part of the retina that provides the best vision degenerates. The central area of vision becomes permanently blurred and distorted.
Symptoms of Myopia
A child with myopia may:
Be squinting to see better
Complain of blur vision
Constantly rub his/her eyes
Complain of headaches from straining eyes
Have increased frequency of blinking
Have difficulty in seeing whiteboards in school
Need to sit closer to television, movie screens or classroom
Who is likely to develop Myopia?
Family history of myopia that has one or both parents suffering from myopia
Constantly involved in near work
Premature infants
What is near work?
Near work is used to describe visual activities done at close distance, or when a person looks at or focus on fine details on an object.
Examples:
Reading
Writing
Using of computer
Drawing/ Painting
Playing handheld or handphone games
Doing craft work with small objects
Can Myopia be cured?
Currently, there is no cure for myopia. Spectacles or contact lenses only aid in providing a clear vision. However, contact lenses are usually not recommended for young children as improper usage or inadequate care can lead to serious complications.
On the other hand, the onset of myopia can be delayed or slowed down which leads to a lower degree of myopia than usual. One of the ways that can delay the onset of myopias are atropine eye drops (Atropine for the treatment of Myopia 2, 2012), prismatic bifocal glasses (Cheng et al. 2014), orthokeratology (ATOM study).
In general, atropine eye drops are prescribed by ophthalmologists only in cases where myopia progresses rapidly or in serious, progressive myopia, especially with a strong family history of myopia-related complications such as retinal detachment.
Encourage healthy eye habits
Teach children healthy eye habits. These habits may help to prevent eyesight from getting worse.
When reading:
Make sure the reading material is 40 cm away from the eyes.
Ensure enough lighting in the room. Avoid excessive glare shining directly onto the reading material or face.
Choose books with larger prints, instead of fine prints
Every 30-40 minutes of near work done, a break of 5-10 minutes is required. (Look out of the window at a distant object or take an extended break)
When using a computer:
Place the monitor screen about 50 cm.
Ensure adequate lighting in the room.
Adjust the monitor screen to reduce glare.
Not to engage in this activity continuously for long hours
When watching television programmes or playing videos games
Make sure the bigger the television, the further away the sitting position is.
The room light should be switched on and the centre of the screen should be at eye level or lower.
Do not watch the television while lying down
Limit the amount of time spent on the television and video games
Encourage more outdoor activities
Ensure a balanced diet everyday by using the healthy pyramid as a guide. (2 servings of vegetables and fruits each)
Ensure at least 8 hours of sleep at night to adequately rest the eyes.
Some Frequently Asked Questions about Myopia
Does eating food with vitamin help to prevent myopia?
Vitamin A deficiency causes night blindness and not myopia. However, it is important to ensure children eat a balanced diet and lead a healthy lifestyle.
Does the colour green has a soothing effect on the eyes?
There is no scientific evidence that the colour green has a soothing effect or helps to prevent myopia.
There are several commercial devices claiming to reduce myopia. Do they really help?
There are several products and programmes that claim to reduce or prevent myopia. However, most of these products and programmes do not have strong scientific evidence and some only have anecdotal evidence. These evidences are not conclusive by the medical research standards. Talk to an eye care professional if in doubt.
Is it necessary for my children for my children to wear glasses if he/she is slightly myopic?
Yes, your child should still wear spectacles to help prevent him/her from overstraining the eyes. Having clearer vision will also help your child to see better in class and ensure that his/her learning is not affected.
Would regular eye examinations results in my child having to change spectacles more often?
No. Regular eye examinations serve to monitor the progression of your child's myopia. Do not wait until your child's myopia worsens before taking him/her for an eye-check.
Can wearing contact lenses help in reducing myopia progression?
Contact lenses serve the same purpose as a pair of spectacles – they help to refract the light rays that pass through the eyes, to form a clearer image on the retina. Although there have been studies on the use of contact lenses in controlling myopia progression, there is currently on absolute indications that wearing contact lenses can reduce myopia progression. It is also not advisable for children to wear contact lenses if they cannot take good care of them.