What are the Safety and Accuracy advantages of 100% Bladeless Cataract surgery and Computer-guided Lens implantation?
What is your step-by-step approach to advanced 100% Bladeless Laser Cataract Surgery in patients with Presbyopia and Astigmatism?
Cataract surgery Techniques, Accuracy and Safety have improved incrementally over the last 50 years and is now considered one of the safest and most successful surgeries performed worldwide.
With modern technological advances, we can use Artificial Intelligence (AI) to minimize human errors and improve on the results and accuracy of the surgery with the use of Bladeless Laser Cataract Surgery & Computer-guided Lens Implantation technique. Using the latest generation of Mono-focal, Multi-focal and Astigmatism-correcting Lenses, the triple demands of Precision, Safety and Comfort in surgery at every single step of your Cataract journey has become a reality, 100% blade-free.
Step1. Optical Coherent Tomography (10,000 HD Scans) makes a 3-D Map of the Lens, the Iris and the front of the eye.
Precisely positioned incision orientation and depth, including the safety zones, based on the treatment plan once all eye structures have been mapped. Benefit: Not based on human guess-work and manual estimation of size and shape of the eye. Safety zone = less human error.
Step 2. 100% Bladeless Laser makes Incisions, Openings and Cuts in the eye, cataract with gas bubbles.
Laser delivers cold femtosecond gas bubbles to replace surgeons' hand-held blades. Benefit: No blades involved, quicker cataract removal with less ultrasound energy = quicker recovery.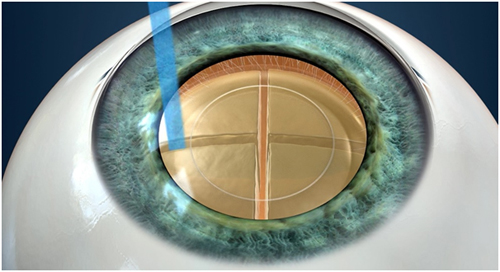 Step 3. Implant intraocular Lens ( IOL), with computer-guided precision
Near-to-perfect overlap with a well centered Multi-focal IOL (MF) and full correction of astigmatism is crucial to achieving an enhanced range from the near-to-distance spectrum of vision.
"Remember a Multi-focal Toric IOL is more sensitive to poor centration or astigmatism cylinder misalignment than mono-focal Toric IOL". Dr David Goh, Medical Director.
My preferred choice for implantation of Premium MF IOLs is to combine the gentle but precise Bladeless Femtosecond Laser CATALYS system to achieve the best centration and overlap for the MF Toric lens combined with the digital technology of the CALLISTO astigmatism axis-alignment system to perfectly align the premium lens implant in the required position, to ensure the best visual outcomes for the cataract patients.
Our aim is for continuous improvements and to deliver next-generation outcomes with precision cataract surgery and lens implantation technology, in our dedicated Eye Ambulatory Surgery Centre.
Make an appointment with Dr David Goh now!
Treatment of Meibomian Gland Dysfunction can improve
Cataract Surgery outcomes